Creating a conversion campaign
Conversion campaigns control the rules and criteria for displaying offers to your customers. Use customer segments for precise control of targeting to optimize conversion rates.
To create a campaign, click Campaigns in the left navigation in the Convert section and then click Create a campaign.
Basic campaign details​

Each campaign needs a unique name. Campaigns can be designated as the default, meaning a subscriber will fall into that campaign if no other campaign is specified when initializing Convert in your application or website.
Offer rules for a campaign​

Campaigns include specific rules that determine which conversion offer is shown to the user when the campaign is triggered. Learn more about offer rules.
Other options​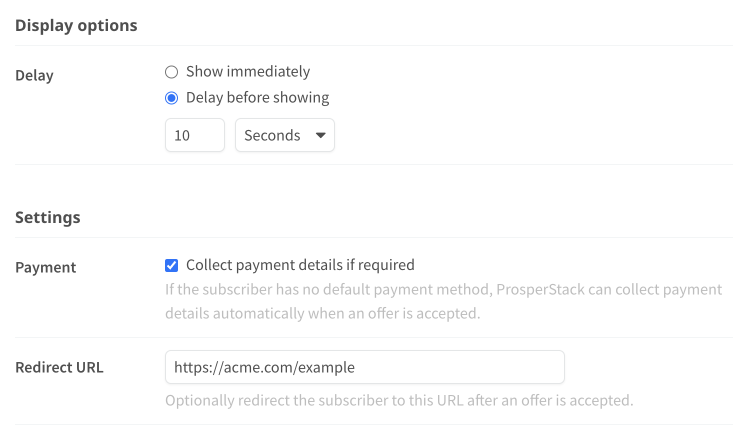 Display options​
Delay — Display offers to users immediately on page load or after a configurable delay.
Settings​
Collect payment details — If the subscriber has no default payment method, ProsperStack can collect payment details automatically when an offer is accepted.
Redirect URL — Optionally route customers to a URL after they accept an offer.