ProsperStack API
Prosper planEnterprise plan
ProsperStack provides a REST-based API for access to your data to build custom integrations.
Reference documentation​
Refer to the API reference documentation for complete documentation on using the API.
Creating an API key​
Navigate to the API keys configuration page by clicking Settings in the left navigation, then API keys. Click Create an API key to create a new API key.

Enter a name for the API key and click Submit. Your new API key will be shown.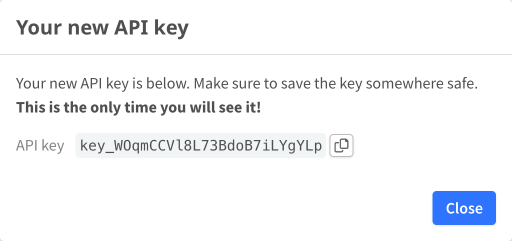 When creating a live mode key, make sure to save the key somewhere safe since it will not be displayed again! Live mode API keys begin with the prefix key_.
Test mode API keys​
Creating an API key in test mode will create a special test mode API key that is scoped to your test account. A test mode key begins with the prefix key_test_.
Test mode keys can be viewed at any time after creation for convenience when developing your integration.