Test mode
ProsperStack's test mode allows you to connect your test or development subscription platform account so you can get started without affecting any production billing data.
Because test mode is isolated from your live account, it's also a convenient way to test out changes to your flow configuration without affecting your live cancellation experience.
To switch to viewing test mode, click the View test data toggle in the left navigation.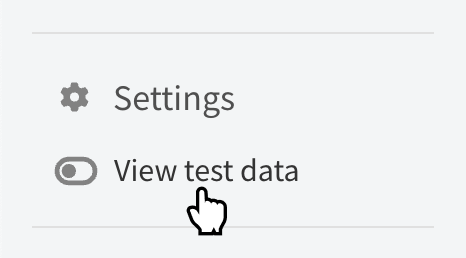 Once you're viewing test mode, you'll see a banner at the top of every screen.

Note
Toggling between live and test mode has no affect on your account or data — your live cancellation flow will continue to operate as normal.
You can switch back and forth between viewing live and test mode at any time. Anything that happens in test mode is isolated from your live account, so you can use it to test changes to your integration at any time.
Connecting a subscription platform​
Only test subscription platform accounts can be connected to test mode. Refer to your platform's documentation for more information on test accounts.
Using test mode in your integration​
To use test mode when integrating ProsperStack with your application, use the Client ID found in the Account section of the Settings page when viewing test mode.